Come See our Garden Sculpture!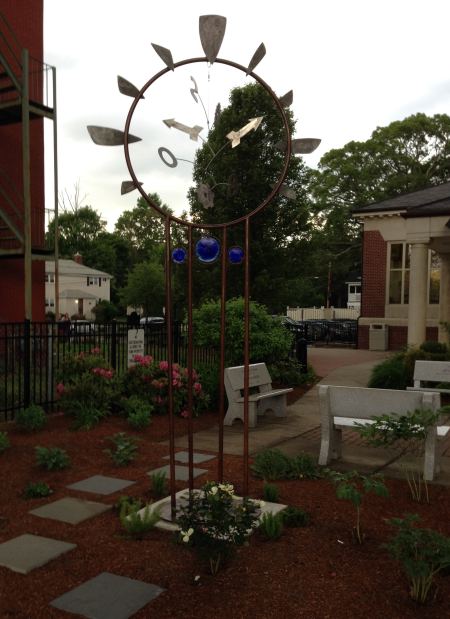 As part of the library's continued effort to promote public art, the Friends of the Ashland Library unveiled a garden sculpture in the front lot of the library on May 28th. The sculpture is in honor of Janet Eames, president of the Friends of the Ashland Public Library from 2000 to 2007 who died of cancer last year. Around the same time the Friends were discussing their desire to build a garden sculpture in Janet's honor, the library received a $7,500 federal grant called "Full STEAM Ahead: Supporting Science, Technology, Engineering, Arts and Math in Public Library Preschool Programming," to create math and science programs for children ages 3-5. This grant contributed to the purchase of the sculpture
The sculpture includes three Clocker blue glass disks and a mobile piece that moves in the wind and includes arrows, gears and numbers to look like a clock, an homage to Ashland's history. The numbers are 8, 2, and 0. Those numbers were chosen because Telechron, the Ashland-based clock company, set their clocks for advertising photos at
8:20
to highlight their logo, said Betsy Emberley of the Friends of the Ashland Library. The sculpture was designed by Whitmore Boogaerts of Providence.
Click here
to read more!
Thank you to Marie Laskowsky and her crew from
The Carve
(who provided our delicious food) and Trisha Cooper from
Trisha Cooper Designs
(who provided beautiful floral arrangements) for making our Annual Meeting so exquisite this year.